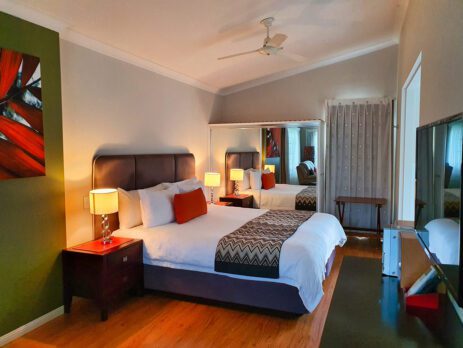 Camelot Boutique Accommodations
Tamborine Mountain Retreat for Couples
Camelot Boutique Accommodation is located amongst 2 acres of beautiful gardens and avocado trees within the lush hinterland of Tamborine Mountain. Staying in one of our luxury self-contained cottages or queen rooms, you will be perfectly positioned to access all that this magical mountain has to offer.
Take a moment to reconnect with your partner and with nature.
Originally a farmhouse, Camelot Boutique Accommodation now includes 3 luxury cottages for couples as well as a guest wing of 3 queen rooms, each with an en-suite and access to the large deck and views of the gardens and orchards.
We have developed beautiful accommodation for couples of the highest standard. Fastidious attention to detail, outstanding cleanliness and careful pricing has ensured we maintain outstanding ratings on Google, Booking.com and Trip Advisor.
We cater to adults only and have developed an outstanding level of product quality, which has been validated by our customers views, setting standards that our many competitors only aspire to achieve.
Natalie and Gary – Owners