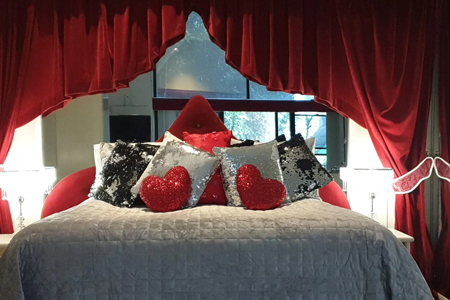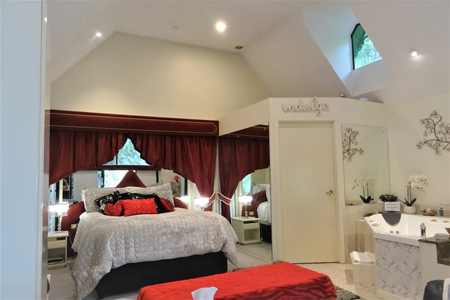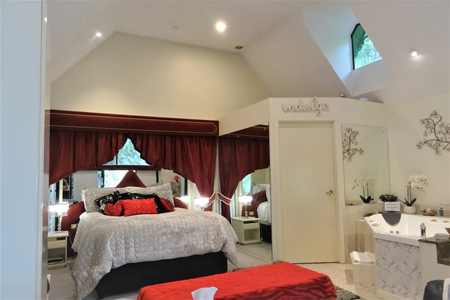 Chalets on Gallery Walk
"Chalets on Gallery Walk – Indulge A While" in a glamorous open plan chalet hidden in luxuriant rainforest within just a minute's stroll of Gallery Walk. Superb ambiance with high ceilings, ceiling windows and a very high glass wall looking out directly into the palms, ferns & tree ferns. The Space "Indulge A While" Chalet welcomes you to their beautiful self-contained unit.
Located in the ever-popular Gallery Walk but nestled away from any noise as you are in a picturesque rainforest setting. You will be spoilt for choice by the many coffee shops and eateries for all your breakfast, lunch and dinner needs and comfortably only a short walk from the chalet to them all. Guest Access "Indulge A While" Chalet is conveniently located at the back of Gallery Café, (on Long rd … Gallery Walk ), take the driveway to the right of the Café and follow the directions down to the rear of the building. Your own private parking space is clearly indicated.
And more… "Indulge A While" Chalet provides you with bottled water, coffee, a selection of teas and a chocolate mix for yummy hot chocolates complete with marshmallows for your pleasure. There is a jug, toaster, microwave and a frying pan for your convenience.
There is no stove but due to the proximity of the many restaurants and cafes to the chalet, you won't have to worry about cooking dinner. Firewood, kindling and fire starters are supplied for your enjoyment. This will be supplied during the winter months only from June through to August. The Chalet uses tank water, because of this the water may occasionally have a yellow tinge to it. This does not affect the quality of the water as the system has filters and UV light.
Complimentary toiletries
Queen sized bed & double recliner couch
Spa bath for 2 plus roomy en-suite bathroom with shower recess
Delightful covered front verandah
Air conditioning & wood fire
Kitchenette with everything you need
Linen supplied