Waterfalls and Swimming Holes
Many natural attractions greet the Tamborine Mountain visitor. A number of breathtakingly beautiful waterfalls are located all over the mountain and are often the reason why so many visitors return time and again. After prolonged periods of rain, waterfalls are at their most spectacular, but all flow year-round.
A bit of walking is always involved when visiting one of the many waterfalls on Tamborine Mountain.
It is hard to pick any particular waterfall as being "the best" – all of the waterfalls have their own special beauty, and need to be seen to be appreciated!
"Cedar Creek Falls" (A4)
A short stroll from the car park at the end of "Cedar Creek Road" provides access to Cedar Creek and some of its spectacular cascades, waterfalls, and rock pools. Visitors pass a couple of rewarding lookouts and descend down into the open canyon via a sealed pathway. As Tamborine Mountain is not connected to town water, these are the only swimming holes on the mountain. Please observe all regulatory notices.
For information on how to get to "Cedar Creek Falls" please CLICK HERE.
"Cameron Falls" (The Knoll National Park) (B3)
The top of the falls is reached after a very enjoyable 30 minute walk starting at the "Knoll Road" lookout. A secure concrete bridge crosses "Sandy Creek", a viewing platform a few meters to the west offers great views inland as well as on to "Cameron Falls" to the east.
For information on how to get to "Cameron Falls" please CLICK HERE.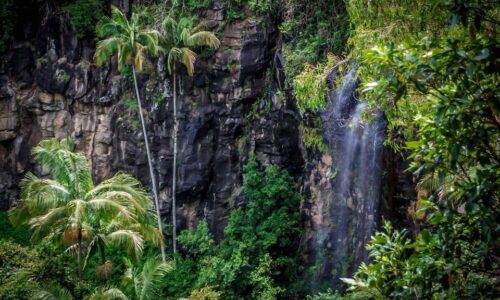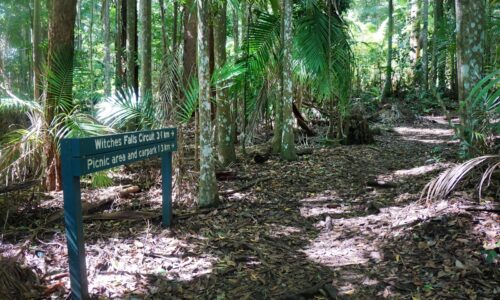 "Witches Falls" (Witches Falls National Park) (E2)
Being located within Queensland's first National Park, "Witches Falls" is one of the most popular waterfalls. Access is via the "Main Western Road" car parking area opposite "Hartley Road". Being located on the "Witches Chase" hiking track, the falls are best admired from the viewing platform also offering great inland views.
For information on how to get to "Witches Falls" please CLICK HERE.
"Curtis Falls" (Joalah National Park) (D5)
Located in the heart of Tamborine Mountain, "Curtis Falls" is the only waterfall that can be viewed from the bottom of the falls. Being fed by "Cedar Creek", a permanent creek, the falls run all year-round. The walking track ends at a viewing platform overlooking a large rock pool, with great views of the falls and the surrounding columnar basalt rock face.
For information on how to get to "Curtis Falls" please CLICK HERE.