What can I see and do on Tamborine Mountain?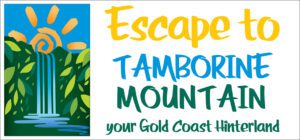 Welcome to Tamborine Mountain's FREE Visitor Guide map information booklet. In April 2010, "Discover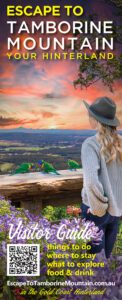 Tamborine Mountain" issued the first "Discover Tamborine Mountain Visitor Guide and Treasure Map"! Due to its continued increase in popularity, we have continued to publish an edition each year. On the right, you see the cover of the current edition released in May 2021. The main feature of the "TM Map Booklet and Visitor Guide" is of course a large map showing all details of Tamborine Mountain, to scale, to enable you to find your way around without confusion! All relevant details are included in an easy-to-see format, nothing has been left out
There is also a map of the famous "Gallery Walk" shopping precinct, listing all the wonderful and exciting shops and the wares they offer, restaurants and cafes, cellar doors, and Galleries
Even more importantly, over the years several NEW PAGES have been added to the visitor guide, covering all the natural wonders that welcome our visitors:
Bushwalks on Tamborine Mountain incl. NEW trail maps, how to get there, where to park, how long they take, and so on. You can also download and print out maps of all trails.
Lookouts to both the Gold Coast and Inland, listed from North to South, with easy find map grid references and descriptions.
Waterfalls located all over the mountain, and how to get to them, as well as where you can go for a swim!
BBQs, Parks, Picnic Areas, and Playgrounds, where they are, what facilities you will find on-site, and how much space it is for the kids to roam around!
The "TM Map Booklet and Visitor Guide" will provide you with extensive information about:
Visitors refer to the "TM Map Booklet and Visitor Guide" as the most used, reliable, and comprehensive Number 1 source of information about all there is to see and do on Tamborine Mountain!